SERIOUSLY MILLENIALS MAKE ABSOLUTELY ZERO SENSE.......
Once Upon A Time, kids were idk, Normal
......
They said please and thank you and they smiled and acted like polite small adults. They listened to their Walkman and sat quietly waiting for mom and dad. MOM AND DAD had control....they could look at you with that "shut up now or I'm going to kill you when we are alone" look. Did we all in our generation not learn that to pass down because this generation is apparently immune.
The reason for all this? Parents who beat their children when they deserved it. I don't mean like "beat" I mean spanked or whatever. Growing up I was scared of my father and upsetting him was the absolute last thing I wanted to do. He's a big and intimidating man who has a presence that commands attention. He scared the crap out of me so I was a good kid per incurring his wrath. That's the way it's supposed to be. I was sent to my room where my tv was unplugged and that was all we had. Now getting sent to your room is awesome! So many gadgets and cell phones to text your friends about how much your parents are lame while you surf your instagram and pinterest accounts for hours until it's dinner time. Now igetting banned from your room is a punishment and having to eat at the dinner table with your family with no cell phone is TORTURE!


They also don't just do things to make life simple. It's almost like they thrive on it. They want the drama...Here's an example some kid recently stole an idea I had and basically copied it. Well that person had a tie to the true origins of the idea, and me the understanding person I am proposed a compromise.....yep no....He didn't want a compromise, he wanted what he wanted and compromise that was actually me giving in to him wasn't going to cut it so I proceeded to get a "hate tweet" from a 13 year old with cuss words......um....wth
I agree with this..... Dean Winchester gets it. This generation will never know a life without cell phones. I came in on the very end of the Gen Yers
ONE QUESTION IF YOU ARE 6 WHO ARE YOU CALLING/TEXTING/SNAPCHATTING? ELMO? HONEY BOO BOO? I mean who do you call at 6 years old? I want to make clear this is a rhetorical question for the pure fact I don't want to know the answer!!
Growing up I had one of those dorky see through phones.....IN MY ROOM ON A LAND LINE! Gasp!
I snuck my Tamagochi Pet in my backpack with my LA GEARS that lit up. I was super cool baby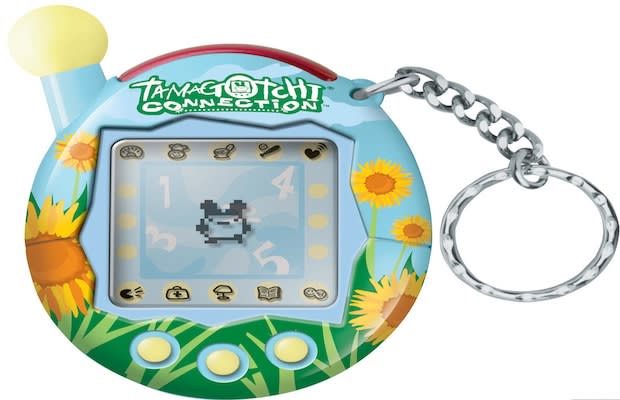 yeah baby sexy!!!!
I don't know about you but I was a horrible Tamagochi mom. Mine died every time. That dude was a glutton. And he didn't start over if he died you had to accept that fact and maybe shed a tear or like me throw it as hard as you can pissed into the trash then tell everyone you knew how much they suck.
A FEW YEARS LATER.......
Satan invented a fad that was true evil........
BEANIE BABIES.....
Why god why????
I still own some and I swear maybe one day when I'm 80 they may be valuable. They will be mine until then. Because no one in their right mind would take them even for free.....seriously TRY GIVING THEM TO GOODWILL! I have...
Then you would get home and Mario had to rescue the princess and dang it I wanted every short cut. There were even magazines devoted to shortcuts and don't you doubt I played Sonic The Hedgehog too on my Sega Genesis baby!
AS A 90'S KID I KNEW EVERY TRICK TO MANIPULATE
SILLY PUTTY!!!!
What happened to Silly Putty I mean does Playdough even still exist? what a strange world.
me and my
LISA FRANK
NOTEBOOK AND MY
TRAPPER KEEPER
WOULD HEAD OFF TO SCHOOL WITH MY TAMAGOTCHI AND MY LA GEARS FOR GYM.....
Back when I was growing up, you learned things like um....sports in gym class and you didn't get to sit out unless you were
dying.
So as I went to school in my mom's Chevy hooptie I mean that was an ugly car I listened to my waterproof special skip proof
DISCMAN!!!!!! YEAH BABY!!!!!
DON'T FALL OR BUMP ANYTHING OR THAT TIFFANY OR MICHAEL JACKSON "BAD" CD WAS RUINED
I made many temporary friends and got in a lot of trouble in class playing with my slap bracelets
That I would have to be careful where to put on my hands cause I fell down doing my Skip It!
SIDE NOTE: Millenials would not understand the Skip It and the skill it took. They would wonder where the batteries were and omg you have to like jump? Exercise? um.....no......
There was that glorious time called recess where all these things would be dug out of their hiding places and your Tamagochi was almost starved to death, because you were too busy you know, Playing outside on your feet or playground equipment.
To get on the internet you would have to yell at your brother that you needed the phone line a LAND LINE! and sign on your AOL ACCOUNT AND LISTEN TO THE arrrrrreeeeeeeeesssshshhhhshhhhhhh
sound as it connected.....
if you didn't have an AOL ACCOUNT YOU WERE SO UNCOOL...MESSSENGER WAS A MUST AND EVEN SHOWED UP IN A MOVIE WITH MEG RYAN BEFORE SHE BECAME A MUTANT AND TOM HANKS CHECKING THEIR INBOXES FOR AOL MAIL...
My handle was juls21881 yeah that's right I rock!!
I still have a profile on MySpace I need to find it so I can see pics from the 90s and early 2000s that have long since been lost. This was before we realized the internet is FOREVER!!!!!!
We still had to worry about that stuff called FILM and how many pictures in our cameras and cell phones were the newest thing on the planet and I was dying for a SIDEKICK the coolest
I REMEMBER IN GILMORE GIRLS BACK IN THOSE ANCIENT TIMES CALL THE 2000'S SIDEKICK AND TEXTING WERE LIKE THE COOL THING, NOW....MY
70 year old MOM
CAN TEXT...."NOUGH SAID"
THEN THE DEVIL INVENTED ANOTHER THING....SOMETHING THAT KEPT ME BLOODY AND KILLED MY SPIRIT OVER AND OVER......IN LINE SKATES!
When these went out of style or I GREW to old for them good lord was I happy.
Good riddance....don't even get me started about putting wheels on tennis shoes...I can't EVEN!
THEN CAME THE BREAKTHROUGH THIN FLIP PHONE THE RAZR......
It was so satisfying to flip it closed and hang up on someone.....now you have to push a screen which is so not nearly as satisfying...
END END END TAKE THAT BUTTFACE!
The battery worked for days and the thing was fricking indestructible. Where now people make more money on phone cases to protect your phone and chargers to charge the battery that lasts mere hours. I once dropped my Razr down a flight of concrete stairs! Not even a scratch! those were the days.
THEN STEVE JOBS BOUGHT ALL OUR SOULS......IN HIS BLACK TURTLENECK
He didn't live to see it but no more disc man and no more skipping scratched CDs ipod changed the world....if you think that's not true....really think then cue up the next song on your iTunes....
Once Upon A Time, When I wasn't a fatty and like old.....I played sports....so you know the light up sneakers....yeah I rocked those babies....
ONE PROBLEM
You couldn't wear them while playing sports so there I was with the duct tape/electric tape covering my light up shoes that was completely ineffective therefore showing even other schools I was a geek.
I started seeing those again and the trauma of many a basketball game came flooding back.
one of my favorite shows PRE-SUPERNATURAL was Buffy the Vampire Slayer.....duh what's not to love.
In the first episode Buffy famously quips. "If the apocalypse comes beep me." Awww beepers the memories...and the pay phones that were a quarter......*sings* Memories!!!!!
The Gilmore Girls Pre-Revival had beepers and those fun flip cell phones and their fast talking...then Rory's dad got the big bucks and got her a SIDEKICK FOR TEXTING....WOOOOOOWWWW
MAN I WANTED ONE!
I remember Rory's dad not knowing how texting worked telling her he was eating peas on her sidekick.....he didn't like them. This was pre iphone.
The arguments over whether a random celebrity was alive or dead were classic and now just look it up and argument over!
How did we like know things before Google snaked it's way into our consciousness? I can't imagine a world without Google....but it did exist once.... flashback to the torture of learning the Dewey decimal system. Is that even still in existence? Oh and card catalogs! Oh and for that matter. LIBRARIES. My mom goes to the library once a week and I have a library card that expired in 2009. I mean I can buy it on Kindle people why go to the library.
To be fair I wanted everything Rory from Gilmore Girls had, the mom, the men, the looks......Yeah and all the things Buffy had too....I wanted a lot
Then my very favorite games FINALLY making kids long car rides bearable....THE GAMEBOY!!!!
Here's a fun fact. What I call irony...these are worth a FORTUNE ON EBAY and beanie babies you can't give away......
There was also playgrounds and the schools with the best ones! then most kids could do the monkey bars including me.....I don't think a millennial would even know what a monkey bar is.
Going outside is very.....
There's like bugs and stuff. I went to summer camp every year and came home with mosquito bites covering every inch of me and I loved it....there was no GLAMPING.....Now I can't get my nieces to get through one dinner without their phones.
There were probably "fad" diets but I didn't care I was a kid. I loved me Some NEW KIDS ON THE BLOCK AND KID AND PLAY AND MILLI VANNILLI Pre lip syncing fiasco, now 90 percent of artists lip sync in concert, just saying. AND WEIRD AL'S VERSION OF EVERY POPULAR SONG.....
I lived for POP UP VIDEO?? Random facts we didn't know? POP!!!!
BEHIND THE MUSIC.....
AWARDS SHOWS DIDN'T HAVE RATINGS.......and I as a child could watch them without having to see too much of Miley Cyrus while rubbing on some sorta kinda known dude who happens to be the son of the dad from GROWING PAINS!
WE DIDN'T KNOW EVERY FACT ABOUT EVERY STAR OR "NON STAR EVERY SECOND"
Things didn't get blown up. There were sight seeing tours to the top of he World Trade Center and except for the evil "Saddam Hussein" who was only evil to me because footage of the first Gulf War took up my TV shows....like Beverly Hills 90210 omg Brandon!
Wars actually ENDED! And troops could come home to their families. Now wars aren't periods of time they are every day happenings with different countries getting mad about something and the US playing the big brother on the playground protecting them and arming them just to have them turn around years later and use those weapons against us and the circle begins again. The military isn't a, will you fight a war it's a WHEN and WHERE. it's not bullets anymore or adults fighting behind lines. It's secret missions with night vision and infrared and insane rich guys who have tricked younger men to strap bombs with nails and other sharp harmful objects and walk into dance clubs and blow it and themselves up. It's children with IEDs taught to hate so young.
Ask a millennial if they could name one general or for that matter what soldiers do or what country we fought in World War 2.
Recently I pulled out my New Kids On the Block tape in my old bedroom and my 12 year old niece asked me what a "tape was"
Then a book came out that was made into a series on NETFLIX not regular tv but internet tv, and a girl in high school made 13 tapes telling the kids in her high school why she killed herself and now a suicide NOTE is a thing of the past.
When I was growing up kids committed suicide for hate crimes over having HIV. It was tragic and newsworthy. Now the news is full of worse things than HIV and kids kill themselves due to being bullied not just in school but because they can come home and be bullied non stop on social media because some random guy claims he had sex with her and she kills herself and it's not going to make the news because it's becoming an epidemic.
The world used to say SAY NO TO DRUGS now it's more like ok just be safe and get an Uber and don't overdose. And kids having sex at ages when back when I was growing up the thought was still gross.
SAY NO TO DRUGS has been replaced with DONT COMMIT SUICIDE YOU ARE WORTH IT! I'm glad I grew up when I did. I was bullied mercilessly and I endured because I could come home and just worry about it at school and not keep getting tortured when I got home over a picture on Instagram or a tweet. Being a kid today is easy in some ways as far as convenient, but there aren't just cliques now there are girls that are popular one day because the guys like them and then SLUT SHAMED for it and bullied the next. Anonymity and hiding behind a keyboard is the reason kids are dying way too young because people don't have to say it face to face. That is the hardest thing I can imagine. If you commit suicide now, it's not on the news because they are too busy talking about suicide bombers and crazy people shooting kids while just learning first grade math.
SAY WHAT YOU WANT ABOUT THIS GENERATION WITH ALL THEIR CONVENIENCES. YES THERE IS GOOGLE AND SMARTPHONES BUT THERE IS HATRED AND JEALOUSY AND KIDS WHO CANT ESCAPE THOSE THINGS. THERE ARE 16 YEAR OLDS HAVING CHILDREN AND GETTING THEIR OWN SHOWS.
MILLENIALS HAVE NO STREET SMARTS ANYMORE BECAUSE THEY DONT HAVE TO LEAVE HOME TO EXPERIENCE VIOLENCE.
BEING THIN IS EVEN MORE PRESSURE AND EATING DISORDERS ARE AT EPIC PROPORTIONS. BEING FAT IS WORSE THAN BEING A SEX OFFENDER THESE DAYS AND JUST AS DISGUSTING.
Adults are trying to change the negative connotations of beauty isn't just on the outside but we are fighting a battle we created. With models who are 6 feet tall and 100 pounds and some designers refusing to make PLUS SIZE clothing. Plus size now being size 6 and a huge scandal because they put a size 16 GORGEOUS model on The cover of the Sports Illustrated Swimsuit issue. A gorgeous woman who looks freaking amazing.
She's too fat they say. No she just eats! But this was a big deal she isn't starving to death and she's on a magazine with models that are genetic mutants.
TELEVISION. THERE ARE NO WORDS.
I REMEMBER THE DAYS WHEN I WOKE UP SATURDAY MORNING AND WATCH SAVED BY THE BELL WITH ZACH AND KELLY AND SCREECH BEFORE THAT UGLY DUDE WAS A PORN STAR OR SOMETHING? KELLY AND ZACK WERE IN LOVE AND SEX WASNT EVEN AN ISSUE.
BACK TO THE PRE-Millenial days:
MICHAEL JACKSON'S BAD WAS MY ALBUM BABY! I HAD THE TAPE AND THE "WEIRD AL VERSION "FAT"
JANET JACKSON AND I DID SOME DANCING BABY------ RHYTHM NATION!!!!!
OUR BOY BANDS WERE EVEN DORKIER BUT DAMMIT WE WERE DEVOTED And there were TWO TO CHOOSE AND DEVOTE YOURSELF TO, NOW THERE ARE SO MANY THAT WHO DO YOU CHOOSE?
They would tour and not end up with mugshots in random countries....they were just cute boys not delinquents.
HANNAH MONTANA WAS ON AND SO WAS LIZZIE MCGUIRE......BEFORE THE CRAZY THAT BECAME MILEY CYRUS....
We had Michael Keaton as Batman and Matlock on TV for our parents don't kill me I secretly liked that show.
OLD PEOPLE JUST GOT OLD!
ANDY GRIFFITH WALKED AROUND AS MATLOCK WITH HIS WHITE HAIR
JESSICA FLETCHER "MURDER SHE WROTE" AFTER APPARENTLY RETIRING FROM SOMETHING.
DICK VAN DYCK AND HIS WHOLE FAMILY DIAGNOSED MURDERS.
NOW WE HAVE STARS LIKE JOAN RIVERS DYING FROM TOO MUCH PLASTIC SURGERY AT 80 SOMETHING WHEN SHE LOOKED 40 AT LEAST SHE TRIED TO.
THE BIGGEST SCANDAL ON TV THEN WAS
'DONNA MARTIN GRADUATES!"
All because she was drunk at the prom. Good god I miss those days!
My senior trip to Europe you had to figure out 20 different currencies between countries and you got these things called STAMPS in your passport. You could ride the tube in London and not worry about being blown up and our biggest danger was pick pockets...
When I returned shortly after my niece was born and with that the age of the MILLENIALS BEGAN HERE WE ARE....CYBER BULLYING, TWITTER, INSTAGRAM, FACEBOOK, SNAPCHAT, AND WHATEVER ELSE LATER.
THOSE WERE THE GOOD OLD DAYS AS THE SAYING GOES....
NOW:
TAKE A PICTURE WITH OUR SMART PHONE OF OUR COOL MEAL....
FLY BUT IF THEY ASK YOU TO GET OFF GET THE HELL OFF.....
WATCH THE NEWS TO SEE WHERE THE NEXT TERRORIST GROUP WILL BOMB AT SOME CONCERT OF SOME CRAPPY TEEN IDOL.
BATMAN HAD 20 REMAKES BY NOW AND AT LEAST 6 ACTORS. TERMINATOR HAS BEEN REMADE....NOTHING IN BACK TO THE FUTURE ACTUALLY CAME TO PASS AS THE DAY JUST CAME AND WENT.
THEY REMADE
DIRTY DANCING......DIRTY DANCING.....WHAT? WITHOUT PATRICK SWAYZE.....NOT COOL MAN NOT COOL.
If it hasn't been "remade" then it's been the 50th anniversary celebration.
Has been celebrities that should have long been forgotten are dancing with stars that aren't truly stars.
THERE ARE 16 AND PREGNANT GIRLS WHO STUPIDLY RUINED THEIR LIVES AND GOT ON A TV SHOW FOR IT AND THE RATINGS ARE HIGH.
THERE ARE REAL HOUSEWIVES FROM EVERYWHERE....THAT ARE NO MORE REAL THAN BOOB IMPLANTS.....
NEW JERSEY,
NEW YORK
BEVERLY HILLS
POTOMAC
ATLANTA
ORANGE COUNTY
I can't even think of the others. There are girls who are famous for their butts.....their BUTTS.
They are skinny everywhere else but have big butts so they and their entire family get a show on tv that comes on so much you can't not know what it is. They are famous for being famous and have no skill at all. They didn't even lip sync themselves into fame they just made their butt fat.
Baywatch has been remade in movies where once big wrestler the Rock replaces The Hoff and Zac Efron is now not 13 and so we can like him without feeling guilty
The "FRIENDS" are old now and the millenials think that is classic tv.
GEORGE CLOONEY GOT MARRIED FINALLY AT LIKE 70 OR WHATEVER AND TO THIS WOMAN HE SO DOESN'T DESERVE.
HE OUTGREW THE ER AND WENT ON TO THE OCEAN...ELEVEN,TWELVE, AND THIRTEEN.
SAID AWESOME WIFE GAVE BIRTH TO TWINS SO GEORGE CLOONEY HAS FINALLY PROCREATED AND EVERYONE CAN BREATHE A SIGH OF RELIEF HIS GENES ARE FINALLY IN THE GENE POOL....
BRAD PITT WENT FROM THELMA, LOUISE, AND JENN ANISTON TO A SKELETON NAMED ANGELINA WITH BIG LIPS AND 6 KIDS BOTH ADOPTED AND NATURALLY BORN LATER......THEY GOT MARRIED AND THEREFORE DIVORCED.
JENNIFER ANISTON ACCORDING TO MAGAZINES HAS HAD LIKE 40 PREGNANCIES AND NOT ONE BABY. MAGAZINE ARTICLES HAVE WHOLE WEBSITES ABOUT WHICH ARE TRUE AND WHICH ARENT AND THEY ARENT TABLOIDS.
There are gluten free diets, raw food diets, anorexia diets, atkins no carb diets and also just no diet at all diets. You can't watch the 500 tv channels without seeing some washed up star talking about Nutri-System or Weight Watchers.....
Britney Spears went from pop princess to pop hot mess, and back again and now has made Vegas no longer just where the washed up stars go to perform, she made it cool again cause she needed a steady gig and her daddy is still her guardian but she sells out every night. SHES NOW 36 and has teenage kids and still can't control her own life. But she's making money like crazy and has become even more iconic. OOOPPPS SHE DID IT AGAIN!
MICHAEL JACKSON IS DEAD BECAUSE SOME DOCTOR GAVE HIM ANESTHESIA AS SLEEPING PILLS AND SURPRISE THAT KILLED HIM.....HIS KIDS ARE ALMOST GROWN AND THE QUESTION OF THEIR PARENTAL LINEAGE IS EVEN MORE IN QUESTION. HE WAS BROKE AND THEN HE DIED AND NOW HE'S MAKING MONEY WITHOUT EVEN DOING ANYTHING......
RANDOM FAME SEEKERS AND CRAZIES BLOW UP CONCERTS AND BUILDINGS AND THEMSELVES AND WHERE THEY HIT NEXT IS UNKNOWN. YOU COULD BE WALKING IN THE LOCAL MALL AND BECOME A TARGET JUST FOR BEING THERE.
Politicians are one step away from their own reality show.....you know the rich dude from Celebrity Apprentice well he's the freaking ruler of the free world and is making a fool out of all of us and his every move is on tv for he whole world to see.. With I think his like 17th wife from some country that no one has ever heard of and the catalog where he bought her has since been burned.
The most exciting thing locally is the HOCKEY TEAM WE IGNORED FOR YEARS....they actually are pretty good and made it to the STANLEY CUP PLAYOFFS. We aren't ignoring them anymore....millenials are headed off to college and our future isn't bright it's scary as hell and these idiots who never played outside, grew up with Google and smartphones and document their every minute of every day on whatever is the popular social media network of the moment,
THESE ARE THE PEOPLE THAT WILL RUN THE WORLD AND NOT VERY FAR IN THE FUTURE. WHAT WILL THE NEXT GENERATION BRING AND WHAT IS GOING TO BECOME OF OUR PLANET?
......WE ARE DOOMED!!!!
MAYBE NOT........
I HOPE I'm WRONG I HOPE THEY SAY I TOLD YOU SO....
I HOPE BUT I'M NOT VERY CONFIDENT
MILLENIALS YOU ARE WEIRD CREATURES BUT ITS NOT YOUR FAULT COMPLETELY. THERE WILL BE SOME GREAT PEOPLE TO COME OUT OF YOUR GENERATION AS THERE IS IN EVERY ONE. BUT. WHAT WILL THEY BE "GREAT" FOR AND WILL YOUR KIDS HAVE A PLANET TO EVEN LIVE ON SINCE WE YOUR ANCESTORS HAVE GIVEN YOU ONE THAT WE HAVE ALMOST DESTROYED.
GOOD LUCK GUYS! You have a hard road ahead and many challenges to face and I'm worried you aren't being prepared for the hardships to come. We shall see. Hopefully history books aren't all gloom and doom in 100 years and hopefully you can fix our mistakes.
Really every new generation is questioned by the previous one but more technology has been developed in the last 50 years than ever in human history and that poses a lot of serious questions of the consequences of it. I hope you guys make us proud and make this blog post make me completely wrong.
Again,
GOOD LUCK AND PRAY. YOU ARE GOING TO NEED IT!
Much love,
JP